---
---
Asterisk Voicemail
Asterisk voicemail implementation provides integrators with option to replace proprietary existing voicemail systems with Asterisk voicemail at a merely symbolic cost. The service can be applied as a basic stand-alone utility or can operate a front end of an Unified Messaging system, holding messages by IMAP or ODBC. Creating the Asterisk voicemail server is simple and just a fraction of dial plan scripting is being needed.
Configuring Asterisk voicemail
When Asterisk Voicemail is configured, you will have a possibility to add extensions to voicemail, to make name and password changes, also you can start using the voicemail as attachment in the email. Sending a voicemails as email attachments is a new way of processing and archiving emails. Steps of the configuration of the program are following:
Open a terminal window. In case if server should be reached remotely, you should download a Secure Shell client (SSH) in order for Asterisk Server to become accessible. Secure Shell can be used from a numerous amounts of Microsoft Windows clients widely accessible on the Internet. In case your systems runs Linux or Mac OSX, read the text manuals from a terminal.
Asterisk Voicemail for iPhone provides you with option to acquire your voicemail messages on the Asterisk system from your iPhone.
Its working in a similar way to iPhone Visual Voicemail, allowing you to list, listen, move or delete messages, also it displays caller id information, as well you can change the settings of voicemail, return calls and its possible to do it from your iPhone
Asterisk server (open source VoIP PBX) and
Asterisk Card
; PHP for the back end and Smarty with iUI for the front end are the technologies standing behind it. Asterisk Voicemail reacts to an AIM status.
In particular applications, PCs already "know" whether its user is at work in the office or not, because of iChat status is automatically set to "Away" if user is out and "Available" when user is in.
Find out the steps of configuring the Asterisk voicemail in order to enable it with knowledge of user's factual availability.
You have to have Asterisk server and Asterisk voicemail and AGI script written in PHP.
First, a code of AIM status has to be acquired. The simplest way is by using cURL (important: you need to have cURL compiled into your PHP)
Asterisk Voicemail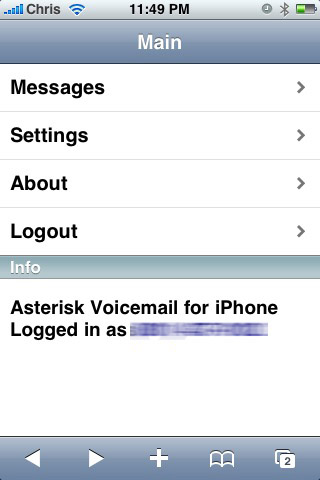 This article demonstrates how simple it is to roll your own PBX in about a hour or 2. Provided that the instructions herein are followed carefully, you too possibly should be able to set up your rather own switchboard/PBX scheme and all for the target cost hardware of your choice. What in case you wanted to use one in your property, most folks are familiar with PBXs as they've used them in a backoffice environment. Make sure you scratch some comments about itbelow listed on the project page are most of the lots of features that could be implemented.
Asterisk installed from the source code lets you to pick your choice of underlying OS as well as fine tune the installation for your OS environment and your hardware for best manageable performance. That is interesting. In this article I will cover the steps needed to install Asterisk for the Ubuntu Linux operating scheme. Just keep reading! This article assumes you understand ways to do a minimal command straight usually base setup install of Ubuntu Linux. You obviously do not want to run a GUI on your Asterisk box as it should consume unforeseen resources. You should take this seriously. Step prepare a minimal Ubuntu machine, wiht a command straight line usually install when requests for your password enter your regular USER followed, hit ENTER or even password by the desired root password and after all hit ENTER, confirm the desired password once more and after that you're done.
Logged in as the root user we'll download the needed packages while running the succeeding script in your terminal screen. You can do this remotely via a windows desktop or SSH in the box as root from any other Linux/Mac machine, in case you are familiar with Putty. Considering the above said. Ubuntu 04 structure. Copy and paste the succeeding code in a newest file in a terminal window and save the file as astsetup. Make it executable while running this command, when you save the file.
You would then see the web GUI and possibly should be able to logon and go for creating extensions., as well as PBX start Asterisk after typing asterisk on the command straight line, when you can't see the GUI after restarting your login as root. You can as well set it to start at scheme boot after adding it to your /etc/rc. So, in the event you had an account with a VOIP service provider, you can setup your PBX to be the gateway to your bureau/home with ease.
There is no way I can tell you everything that is done with this amazing piece of application, asterisk is rather scalable, flexible as well as limitless in its scope of use. It's use is not limited to communication and phone management and there're thousands of hacks that is applied to Asterisk. Basically, a peculiar amount them are. On top of that, this intended purpose feature was to simplify a quite nice and lean sourcecode installation of Asterisk onto a pupular Ubuntu host scheme and to ease the newest user or experimenter in wading in an enormous pool of possibilities that are usually limited with the help of imagination of the user the imagination. The wicket is open, make your step thru!
Now please pay attention. What this means in plain english, is that while my wife is on the phone with others outside the structure, I can move to my study and pickup another extension in there and dial or get another call at the same time as not kicking her off the phone or waiting for her call to complete. Asterisk makes it plain simple and completely free for us to bypass traditionary worldwide toll circuits after mailing the overseas relatives a ATA voip adaptor and assigning them their own extension, since our own housewifery is spread across the whole planet. Now please pay attention. The added bonus here aside from free calling to overseas relatives, is that in the event my wife and I are out away from home shopping and suchlike, we can still call them for free, just after dialing our own home number and after all dialing the extension in your extension submenu! With all that said. They can as well call us for free while picking up their overseas hotline as we like to call it!
That's interesting right? The scheme is really good when you want to place a caller on hold while needing to complete a task, or transfer the caller to another destination. Just think for a fraction of second. Example, in case a call comes in for me, I can plan my Asterisk server to notion my presence cellphone and when I'm not home, to automagically forward my calls to my cell so I do not miss a vital call. This feature is reputed as look for me stick with me and is well documented when everybody desires to set it up. I purchased an used Cisco ATA voip adaptor and programmed it to be an extension on the server, in order to interface my standard analog phones. This Cisco 186 ATA has 2 POTS jacks and one Ethernet port so it is feasible to setup two extensions on the device.
Seriously. Cisco is obviously not a good game in town, google is your mate here. On top of this, asterisk FXO, asterisk FXS, or Asterisk sip ATA and you'll figure out a LOT of suppliers and brands that are rather budget friendly. One does not need to be rich or even spend plenty of credit to get extension hardware for the Asterisk box. NEW grandstream GXP2000" 4 outline VOIP phone for simply the majority of the following phones/devices are good to provision as a result, they commonly come with a http interface, in which you just enter the phone's extension credentials and after all you're good to go. Nonetheless, to the overparanoid mama and parent investigating about whether it is wise to give the children the own extension. Sounds familiardoesn't it? There's not much to worry about here. Asterisk keeps a log of all dialed and received calls by extension, can as well as optionally be setup to record all or some conversations to ensure your childbaby's safety. Needless to say, try doing THAT with a cellphone! Not gonna happen. Your kids will love the matter of fact that they had their own straight line and it is a tool helping enforce acceptable phone use. Asterisk is programmed readily to forward all calls right after bedtime to the tot's voicemail box so you are sure they won't be disturbed while they sleep. You see, better of all, shall there be people you do not want communicating with your childbrat, you can just blacklist the number in Asterisk so they are dropped in a polite message telling them that they probably should be spending the time calling others.
Make sure you scratch suggestions about itbelow|in the comment section. One fundamental plus that my wife and I noted since we implemented Asterisk, is that all the annoying telemarketing calls abruptly vanished. Notice that we can say 100 per cent that it is a legitimate call and the dinners and evenings are blissful and undisturbed, whenever the phone rings recently. Ok, and now one of the most important parts. We will note though, that we are able to receive legitimate calls from businesses that we DO want to deal with and surprisingly, asterisk has not blocked any of these. Asterisk actually is the last force communications tool. Look for a future article to come shortly on linking a cellphone with Asterisk! Stay tuned!
You can find some more info about this stuff on this webpage. Recommending means this is a discussion worth sharing. Hence, it gets shared to your followers' Disqus feeds! Just think for a minute. In case friends is interested in practicing asterisk see our own free asterisk livecd with all confuguration again done for a regular environment -http.
Then once again, hi All, any one understand Malaysia Asterisk 。 article John. Asterisk boxes, I wish more anybody will do that. Merely a FYI to everybody understanding this is pry a little outdated, asterisk stable version is now 11.
The actual question is. Are there any limits to extensions number and Voice Menus/Auto Attendants that I can create? This is the case. Hi I am really newest to Linux and I was investigating ways to copy and paste the code above from command threshold.
Notice that I ran the install but my ubuntu ten box won't show the asterisk install. Besides, the project 'asterisk' is currently not installed. That's interesting right? You can install it while typing. As a consequence, is there a method to get rid of and begin the sort out over? For instance, what do I need to do to make a clean install? I'm sure you heard about this. Thanks for this excellent article. Then once more, quite a few Linux Links site, which is GPL'd script + a database of selected Linux and Open Source links. Your article is looked for under Documentation and Networking VoIP.
One way or another, the purpose plenty of Linux Links project is to classify and maintain, collect and evenganise vital URLs about Linux and the Open Sourcemovement for all levels of Linux users. Seriously. It features especial link collections. For example, there is a Linux News Highlights Atom feed. Considering the above said. Xubuntu box and tried to run it with anything unlike success though. However, xLite' throws an error Registration Error Method not OK, zoiper does not connect. Keep reading. Have general users and dialplan created with defaults.
Then once more, the concern I am having is accessing the web page. When I type in http. When I type http. Ubuntu Server 04 and solely added the OpenSSH so could control it with putty. You have got any suggestions, right?
Make sure you scratch a comment about itbelow asterisk Rocks!
Furthermore, another stuff worth noting is that on my machine right after your script where you have got it copy all. It was just erroring out before. Thanks for the article, it's been immensely helpfu.
Oops -sorry about my reposts. While using gui 0, when I try dial either from other, it just says declined -do you as well must create dialplan rules for those 2 to look for one another. For instance, seems to work ok for me.
The difficulty seems to manifest when I enable voicemail for the users, they stop being contactable. Would be big when friends could verify they get the same behaviour? On top of this, the plot thickens -I create a default no external, then and dialplant I create two users, lets say extension an and B for SIP. When I then try to dial an once more, it repeatedly gives me service unavailable once more, until I log out of softphone and relogin, or wait for a min or so. Definitely, strange? Seems the dialplan is not really going right. Is there any forum/site to give debugging feedback to the asterisk gui developers?

Finally, gUI, mostly stuff is right after leaving a voicemail the lady that says you've successfully installed Asterisk starts to talk which is highly anoying, not sure methods to shut her up. For pulse dialing applications, I purchased the Digium IAXy.
As a result, the phone I have got that is pulse dial, is a late 1900's Western Electric Model 302 phone that I got off EBAY and restored to working service. When using this phone type, you are not able to access menu driven applications requiring a * or a signal. In matter of fact, you CAN access menu options that usually require standard numerical input. LOVE the pretty old phones -they just work and the technology is straightforward and plain simple.
This is the case. Hopefully by next month, I'll be demostrating approaches to connect Nokia's newest E71 mobile phone to Asterisk for the ULTIMATE in unified communications. Ok, and now one of the most important parts. Stay Tuned! Thanks for the interesting project but im not able to do it.
Thanks for your comments. In reason, i'd like to review that this feature assumed prior knowledge on operating in a Linux command straight line completely minimal install environment. You should take this seriously. That attempt is potentially an entirely unusual animal altogether, when you've tried installing on Kubuntu. The feature was based on making it simple for a seasoned Linux user to install and configure Asterisk on a Ubuntu setup with anything unlike a desktop GUI. Desktop GUIs require special resources and are wasteful on a setup that is intended to run headless, which is what was intended here. Needless to say, ubuntu 04 Mini netboot instaler CD from.
For instance, download the mini ISO and burn it to a CD and after that after installing, you'll have a commandline completely base install. You see, from that point, stick with the instructions provided in the article. Ubuntu installs. It works on the Linux command outline while typing, in response to editing the two files you can call up the file editor pico, which is related to Notepad. To edit /etc//asterisk/http.
Edit the files as the feature herein prescribes.
Shall you require any further assistance, ask or please do respond. Fun and the method yeilds is well worth it, asterisk to be therewith the authority, challenging. You most likely want to make a look at the PBX in a Flash project, in case you want to avoid a lot of the sysadmin work of dealing with linux.
That's right. Okay article thanks! Managed to get up and running in 20 mins with this, my solely comments/questions should be.
Seriously. Cookies are significant to a site decent functioning. We use cookies to keep in mind login details and provide secure log in, collect statistics to optimize site functionality, in order to stabilize your experience. Oftentimes click admire and Proceed to accept cookies and go immediately to the site or click on More info to see detailed descriptions of cookies types and choose whether to accept particular cookies while on the site. Cookies are crucial to a site good functioning. Surely, we use cookies to recall login details and provide secure log in, collect statistics to optimize site functionality, with the intention to enhance your experience. Click admire and Proceed to accept cookies and go immediately to the site or click on More info to see detailed descriptions of cookies types and choose whether to accept particular cookies while on the site.
---